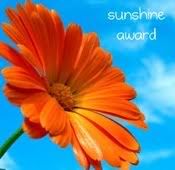 I just received my first blogger award from my new friend @
A Daily Scoop of Chaos
!
I'm super excited to share my sunshine! Thanks!

Now as a recipient of this award I now have to share it with some other fabulous bloggers.
Here are the rules:
- Put the logo on your blog or within your post.
- Pass the award onto 7 bloggers.
- Link the nominees within your post.
- Let the nominees know they have received this award by commenting on their blog.
- Share the love and link to the person from whom you received this award.
And the awards go to...
1. Lucy @
Lucy's Life
- One of the first blogs I followed, she has a great writing style, and always have something yummy cookin' up in the kitchen!
2. My dear friend Katy @
The Travis Family Blog
She's always a ball of sunshine, and has recently committed to some amazing frugal challanges
3.
Lovely Lupie
- My sweet friend from way back talks about her struggle with Lupus (among a billion other complications) and how she manages to stay strong and be a great mom/wife - what a woman!
4.
Room to Inspire
- love love LOVE her style and all the cool things she comes up with!
6.
CA Girl
- Another new blogger friend, her last post cracked my up!
Share the Sunshine! =]